Projects


Lancashire Best Kept Village Competition

Long standing annual competition in which villages and hamlets in Lancashire are encouraged to present themselves in the best light, are kept clean with well-maintained and cared for public areas. Participating villages enter and vie to be the 'Best Kept Village' across several size categories; there are also separate awards for 'outstanding features' in many different categories. The idea of the competition is to bring communities together to showcase the best of Lancashire and village life - responsibility, endeavour, pride… Some 70-80 villages take part, and it is supported by a number of high profile sponsors.

It was felt that the competition, celebrating a diamond 60th anniversary in 2018, needed to upgrade an existing basic, unmaintained website, and to generally improve its marketing, The Lancashire Best Kept Village Competition (LBKVC), is an organisation is managed by a small, dedicated Committee of volunteers, and an army of trained judges who go out to evaluate participating villages as per competition rules over the summer, at the end of which there is a prestigious Presentation Conference where winners are announced and prizes and certificates are given out.

With my experience of community marketing, I was brought in to develop a website to help promote the competition and thus Lancashire village life, and to create a useful resource. The first task was to meet with the organisers to get a feel for how the competition is run, its goals and its potential. With a modest budget, and working remotely, I was able to design and build a mobile-friendly website that could be used to promote, inform and engage… working with materials provided and creating copy, impressing upon organisers that websites are organic and can be added to so becoming a valuable point of interest and source of knowledge both in relation to the current year's competition, but also as a historic record.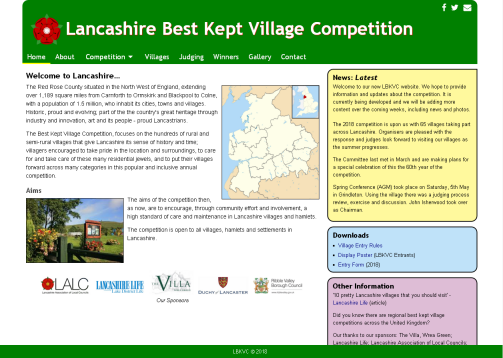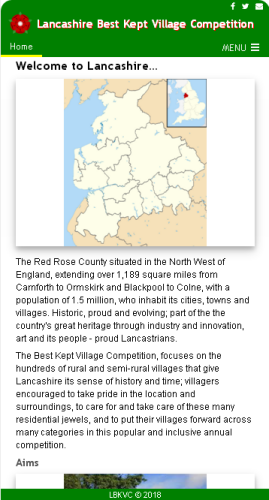 Lancashire Best Kept Village responsive website screenshots.
With the Diamond Jubillee year concluded, and results and progress shared via the new website, the new year saw some changes to the 2019 Competition and judging process, now more easily communicatede. 2019 was another good year for with 57 villages entering. After an enforced break in 2020 due to Covid Lockdowns, the competition returning in 2021. The website will be added to as time progresses, with social media integration to be fully implemented - this will involve some best practice sharing with organisers. It is hoped the website can be used to promote the competition, the villages themselves as destinations, and be something that could attract sponsors and be a positive association for them.